Provided to Florida Public Employees
July 30, 2013
By; Ladra – Political Cortadito
Maybe Deisy Cabrera, the Hialeah boletera, did get an anniversary present from Mayor Carlos "Not So Golden Boy" Gimenez after all.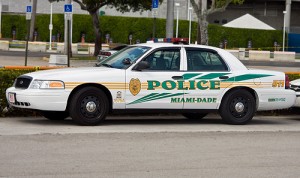 It appears that at least 16 of the investigators from the public corruption unit have been transferred to other divisions, like the economic crimes bureau, homicide, narcotics, the warrants bureau and even the marine patrol.
These transfers are in effect already, having been put in place Monday.
Guess we're done with the public corruption in this town! Already? Really? Really? We don't need them anymore? We don't have any more fake companies securing county contracts to bilk the taxpayers out of millions?
Ladra had heard about these transfers last week, as I reported on the the one-year anniversary of the day that Cabrera was first detained by Miami-Dade Police public corruption detectives — none of whom, I believe, still work in that division. I could hardly believe that in the midst of several absentee ballot investigations – which have, or at least should have, spawned additional investigations (I mean, Cabrera alone had three notebooks full of leads) – and three months before elections in the county's four biggest cities. Including the AB fraud prone Hialeah and Miami.
I filed a public records request about it on Friday. But the memorandum on "personnel reassignments" from Police Director J.D. Patterson was dated Monday.
There's also been a whole "realignment of departmental functions," the second subject heading on the memo, that seems to merge the public corruption unit with the professional compliance bureau.
In other words, they are watering the unit down.
"No question," said John Rivera, president of the Miami-Dade Police Benevolent Association.
"Carlos Gimenez doesn't want a strong public corruption unit, Gimenez doesn't want himself or others to be investigated," Rivera said, adding that every single one of the detectives that worked the Cabrera case — which implicated the Not So Golden Boy mayor and his allies — are reassigned.
"At the end of the day, neither the mayor nor his allies want to stop the absentee ballot fraud they benefit from," Rivera said.
And if it isn't political retaliation, then why is the cop with the least choicest new assignment, Officer Luis Rodriguez — who was moved to the Midwest District to what? Patrol? — was the only one of the bunch who took personal leave to campaign for former Miami-Dade Commission Chairman Joe Martinez, who ran against Gimenez.
It didn't make sense at all to Ladra that the public corruptions squad would be splintered and re-aligned when it seemed to be on a roll, but Rivera and private investigator Joe Carillo – who started the Cabrera investigation by following her himself a day earlier before he tipped the cops — say it makes perfect sense… if certain people don't want us to know what the truth is.
Among the questions that must be asked is whether or not a search warrant on the Gimenez Hialeah campaign office was denied when the police were following Cabrera and another AB fraudster, Tio Sergio Robaina, uncle to former Hialeah Mayor Julio Robaina, as Rivera and Carillo both allege (more on that later). Also, why it took so long to get Cabrera's notebooks to the investigators at the Broward State Attorney's Office, which had apparently already offered Cabrera a deal.
I've made requests to speak to Patterson and Gimenez about this, especially since one of the mayor's staffers told me that I should have waited for an "explanation" before I posted anything. Even though I have been asking for one since Friday.
But, of course, Ladra fully expects the county officials to explain this away — once they get their stories straight — with finely tuned and professionally "messaged" quotes and "talking points" that could touch upon budget matters or "efficiency" or something that sounds pretty.
I'll bet, however, that more people think like Ladra and Rivera and Carillo: It's political payback.
CLICK HERE to read original article
Both comments and pings are currently closed.