Provided to Florida Public Employees
August 1, 2013
By: Ladra – Political Cortadito
Looks like Miami Dolphins owner Stephen Ross is making good on his threat to punish the Tallahassee bunch who killed his $350-million dream.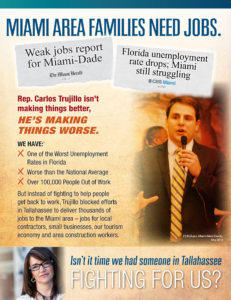 Well, not the Democrat one.
The second wave of mail attacks on state legislators that fought the plan to finance the roof and improvements to Ross's privately owned Dolphins stadium with public tax dollars has hit mailboxes — but only in the districts of the Republican naysayers.
But the one local Dem who fought the scam as diligently, State Rep. Jose Javier Rodriguez (District 112, Little Havana), has been unscathed so far, despite being the most vocal blue in the House.
"Guess I'm not that important," Rodriguez told me, not realizing how true that really is.
Ladra is not saying that to be mean. It's only because Ross is really going after the power: The Republican-led legislature and their Speaker Will Weatherford – who Ross has said betrayed him by going back on a deal that Weatherford says never happened — are the real targets of his PAC, Florida Jobs First.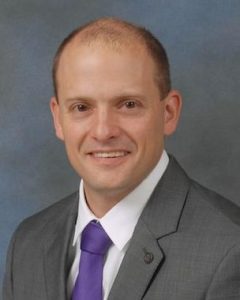 State Rep. Jose Javier Rodriguez
The targets have been State Reps. Carlos Trujillo (District 115, Doral), Michael Bileca (District 117, Pinecrest) and Jose Felix "One More Pepe" Diaz (District 116, Kendall).
"Representative Carlos Trujillo is making it harder for us to find good paying jobs," one of the mailers says on one side. "Rep. Carlos Trujillo isn't making things better. He's making things worse," reads the other.
Instead of fighting to help people get back to work, Trujillo blocked efforts in Tallahassee to deliver thousands of jobs to the Miami area — jobs for local contractors, small businesses and our tourism economy and area construction workers," the piece states, without giving any specifics.
"I think they're acting emotionally. They need to blame someone for their defeat," Trujillo told Ladra, adding that the referendum would have likely failed miserably at the polls. "Even if they would have been able to do everything they wanted and change state statute, voters in the state of Florida would never have approved this."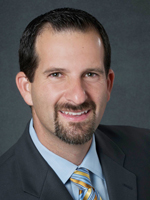 State Rep. Michael Bileca
The wording on the Bileca mailer is exactly the same. And it makes sense to Ladra that Ross would attack Bileca and Trujillo, both of whom voted against the stadium measure in committee and worked the floor among their colleagues to kill it.
But Diaz never had an opportunity to vote on the matter. It never came before his energy and utilities or ethics commission, so he never took action. And he was not a loud detractor, from what Ladra remembers (and she was there).
Still, Diaz — who has expressed an interest in running for Congress –is attacked, too, which may lead one to believe that Ross is trying to help someone else in that race. What else could it be?
The wording on his a little bit different and takes a jab at his ambition.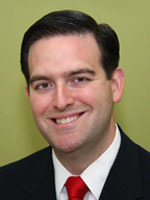 State Rep. Jose Felix Diaz
"Our state Rep. Jose Felix Diaz only cares about one job in Miami-Dade. His own," it says on the front. "Diaz is eyeing a new, higher paying, taxpayer-funded job in Congress, despite outrageously blocking recent efforts in Tallahassee to bolster our local economy and bring 4,000 new private-sector jobs to Miami-Dade for us," it says on the back.
"The fact that there are people who are attacking members of your community, your representatives, because they stood on principle, is wrong," Weatherford said when he was in town last month for the Lincoln Dinner.
Well, that's not really wrong. It's politics down here. But what may be wrong is that the Florida Jobs First is not registered as a PAC or ECO or anything in the state of Florida. Ladra couldn't find their PAC either in county records or state records. Despite several stories in the Miami Herald, Politico and other publications about the millionaire's alleged PAC — which is reportedly also going to help, ironically, Florida Gov. Rick Scott with his re-election — the only Florida Jobs First I could find was a Miami corporation filed last month.
"It doesn't exist," said former State Rep. J.C. Planas, our local attorney to the pols, who has filed a complaint with the Florida Elections Commission about the ads.
"They're not registered in Florida, period, as anything," Planas told Ladra. "They registered as a non profit corporation and with the IRS as a 527 non profit group, but they are not registered to make election expenditures in Florida."]
The illegal disclaimer says "Sponsored by Florida Jobs First," he added. "That is not a proper disclaimer," Planas said. "There are all sorts of illegalities in it."
CLICK HERE to read rest of article
Both comments and pings are currently closed.